Fish River Canyon Accommodation at Ai Ais
Ai Ais in Fish River Canyon accommodation guide. Ai Ais Resort in Fish River Canyon offers quality accommodation in Fish River Canyon Namibia for holiday stopover or business travel.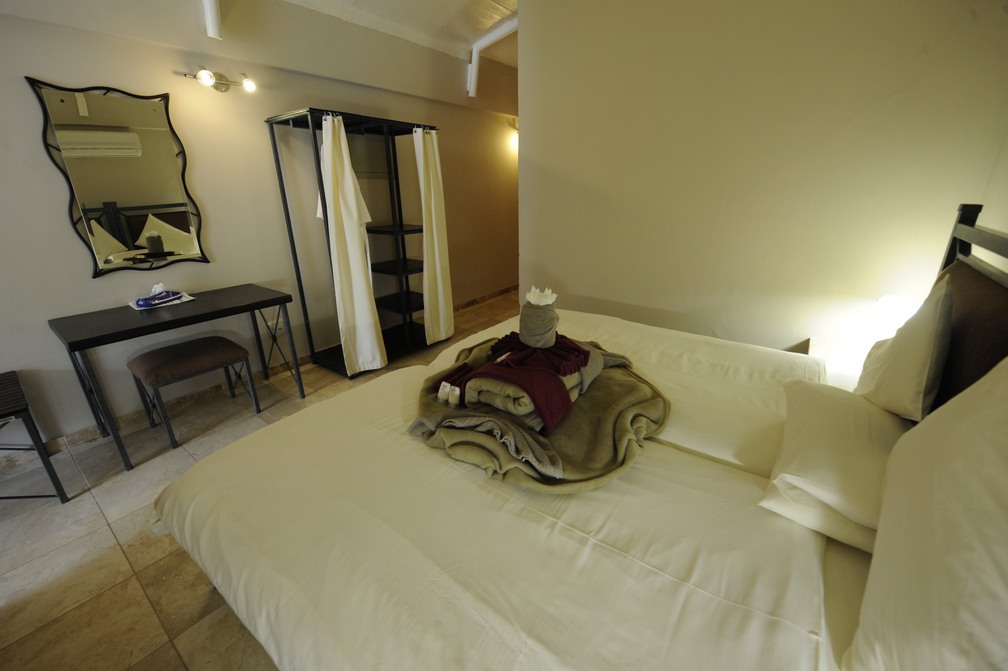 Self Catering Bush Chalets
The 7 bush chalets offer self catering accommodation with two verandahs offering a mountin view on one side and a river view on the other. These air-conditioned Ai-Ais chalets have two bedrooms each, one with a double bed and one with two twin beds, and are suitable for a families or for groups.
The kitchen is equipped with a 2 plate stove, kettle, fridge, cutlery. pots and a microwave oven. The chalets boast 2 verandahs, both with mountain and river views.
The resort also offers 43 air-conditioned twin bed rooms with a tea/coffee station.
Ai-Ais River View Rooms
Twelve of the rooms have a river view (note that the river does not flow all year), are en-suite with a bath and are equipped with air conditioning, an outside shower and a tea / coffee station.
Ai-Ais Mountain View Rooms
The remaining rooms 24 rooms have spectacular mountain views and are equipped with air conditioning, tea / coffee station and are en-suite.
Ai-Ais Camping Site
The camping site at Ai Ais is situated right alongside the riverbed at the end of the Fish River Canyon. With clean ablutions and areas for washing dishes the camping site at Ai Ais is a pleasant if warm place to camp in Fish River Canyon.
Campers can make full use of all the facilities at Ai-Ais.
Note: Due to flooding in 2020 some campsites may need to share braai, water and electricity points.